Geoffrey Coates, a senior investigator at the Institute for the Cooperative Upcycling of Plastics (iCOUP) has been named an associate editor of the Journal of the American Chemical Society (JACS). 
Coates is the Tisch University Professor in the Department of Chemistry and Chemical Biology at Cornell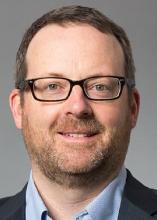 University. Coates' research concentrates on developing new methods for reacting commodity feedstocks in unprecedented ways. His current research centers on the development of homogeneous catalysts for olefin polymerization, heterocycle carbonylation, epoxide homo- and copolymerization, the utilization of carbon dioxide in polymer synthesis, and new polymers for energy conversion and storage.
Coates has been awarded the A. C. Cope Scholar Award, the ACS Award in Affordable Green Chemistry, the Hach Award For Entrepreneurial Success, the Applied Polymer Science Award, and the Carl S. Marvel Creative Polymer Chemistry Award. In 2011 he was inducted into the American Academy of Arts & Sciences. In 2017, he was elected to the National Academy of Sciences and the National Academy of Inventors. Coates is the scientific cofounder of Novomer, Intermix Performance Materials, Ecolectro, and Imperion Coatings.