On July 21, Energy Secretary Jennifer Granholm made a virtual visit to the U.S. Department of Energy's Ames Laboratory, speaking with researchers about Ames' chemistry, physics, and materials science discoveries for a sustainable future.
In a town hall meeting with Laboratory employees immediately after, Granholm said, "As you know I served as governor of a manufacturing state, and during this tour I kept thinking about how the work you're doing here can help us to build a better, smarter, and a greener manufacturing backbone in America."
Granholm took office on February 25 to help address the Biden administration's climate and energy concerns. Ames Laboratory is the 7th stop on her tour of all 17 of the U.S. National Laboratories. It is the first time Ames has hosted a Secretary of Energy virtually.
"Meeting our nation's brightest scientific minds has been truly the highlight of this job," said Granholm in remarks after the tour, thanking the participants for briefing her on the major research initiatives taking place at Ames Laboratory.
"It was an honor to share with the Secretary all we contribute to the Department of Energy mission through our research, development, technology transfer, and commercialization," said Ames Laboratory Director Adam Schwartz. "We are grateful to Secretary Granholm for her time and her enthusiasm for what we do."
The Secretary began with a tour of the Critical Materials Institute (CMI), where CMI Director Thomas Lograsso explained the benefit of rare-earth and critical materials recycling to U.S. manufacturing. Consisting of 290 scientists and engineers distributed between four DOE laboratories, 15 universities and 27 industrial partners, CMI is a powerful hub of innovation for this science, and already has award-winning inventions in commercial use.
Granholm next met with chemical scientists Aaron Sadow and Fred Perras from the Institute for the Cooperative Upcycling of Plastics (iCOUP), the Laboratory's Energy Frontier Research Center dedicated to solving the problem of plastic waste proliferation. The lids of latte cups, plastic bags, and milk jugs are costly to recycle, and often are recycled into less-high-quality material. The iCOUP team, led by Sadow, is working on improving plastic upcycling process so that they result in economically worthwhile products like oils and lubricants.
Next, the Secretary learned about the lab's work in quantum materials, their unique electron conducting and magnetic properties, and their potential uses in light detection, light harvesting, data storage, and quantum computing. She met with scientists from the Center for Advancement of Topological Semimetals (CATS), another of the Lab's Energy Frontier Research Centers. These scientists also work in partnership with Fermilab within their Superconducting Quantum Materials and Systems Center (SQMS) and with Brookhaven National Laboratory under their Co-design Center for Quantum Advantage (C2QA) program, both of which use Ames to produce ultra-high-quality metals and materials for experimentation.
Later in the afternoon, a group of materials scientists explained the effects of today's antiquated vapor compression refrigeration technology, which is not particularly efficient or environmentally friendly. Caloric materials, those that change temperature if they are compressed, electrified, or magnetized, might offer a refrigeration solution that eliminates harmful emissions and reduces our energy use by as much as a quarter.
"Our team has no doubt that caloric cooling is the future," Ames Laboratory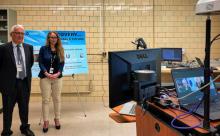 Scientist and Distinguished Professor of Materials Science Vitalij Pecharsky said. "When we succeed, caloric cooling will deliver so much more than the current technology can, and most importantly, without putting the future of our planet in danger."
The last stop of the tour dropped in on scientist Iver Anderson and his team, who presented the Secretary with an explanation of their research in high pressure gas atomization, its use in producing fine metal powders, and the role of these powders in more efficient and energy saving manufacturing processes, as well as in a new, lighter high voltage transmission cable.
"The science of metal powders touches a lot of different manufacturing sectors, and we have the industrial partnerships and commercial spin-offs to prove it," said Anderson. "It was exciting to have the opportunity to share with Secretary Granholm all the possibilities for application this area of science has."
At the following town hall, Granholm shared her impressions of the tour.
"What you have showcased here is exactly why I have so much respect for the people behind the science, both here at Ames Laboratory and across the DOE enterprise," she said. She outlined the Biden Administration's climate and energy goals—a carbon-free grid by 2035 and a net-zero emissions by 2050.
"These are really bold goals," said Granholm. "We really need our National Labs; the work you are doing is just essential to the challenges we are all facing."