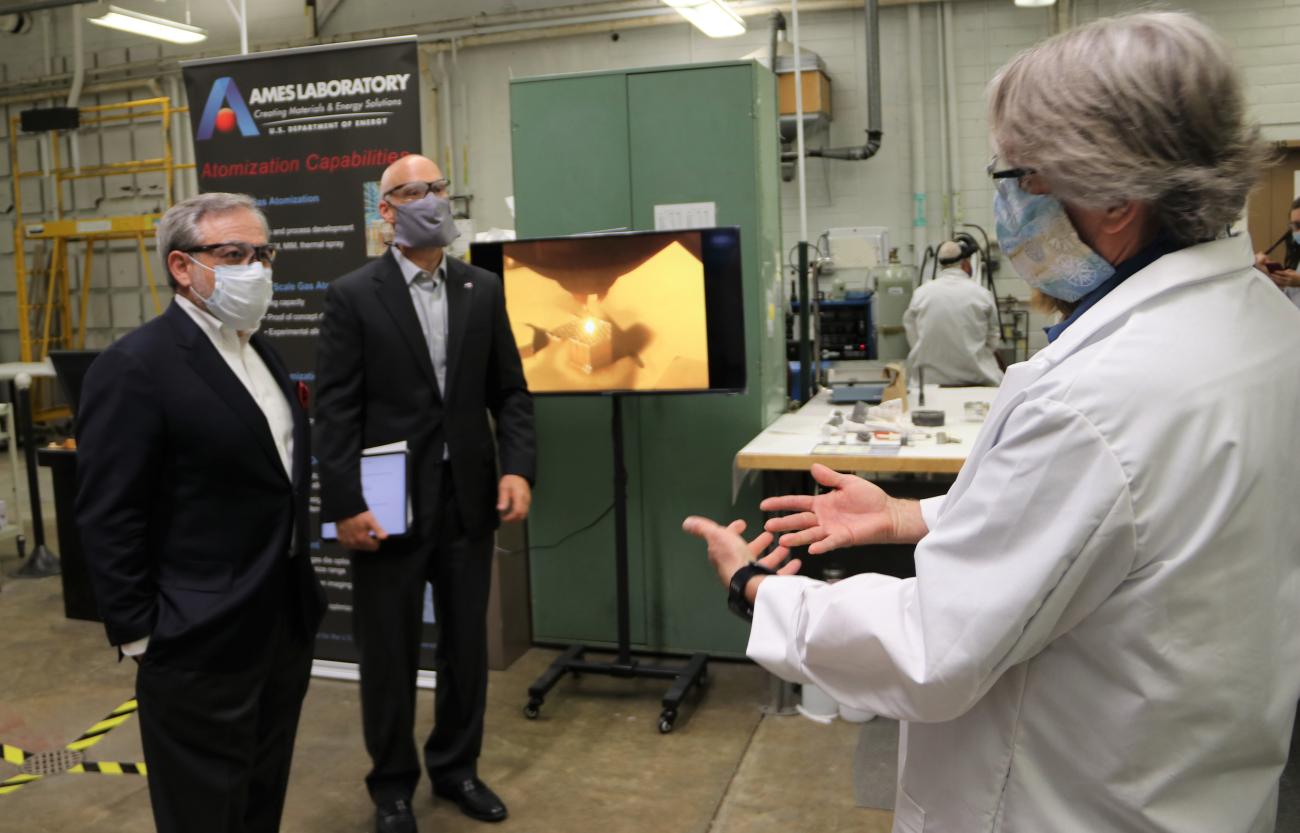 AMES, IOWA -- Energy Secretary Dan Brouillette commended researchers at the Critical Materials Institute Energy Innovation Hub and Ames Laboratory for their work in fundamental materials research while visiting the Laboratory's facilities at the Iowa State University campus today. 
"The Critical Materials Institute's work in finding U.S. produced sources and alternatives to materials vital to our energy and national security is invaluable to our country," Brouillette said. "When combined with Ames Laboratory's ongoing excellence in materials research, the work done in Ames plays a crucial role in DOE's scientific and energy security efforts."
Brouillette met with the newly hired Critical Materials Institute director Thomas Lograsso and CMI researchers dedicated to finding better ways to replace, recycle, and reuse rare earth metals and Li and Co used in clean energy technologies. Specifically, researchers described a new technique for separating and recovering rare earth metals from electronic waste.
Ames Lab researchers shared information on computational science for critical materials, separations, catalysis, and recycling that are being used to explain and guide experimental efforts in those areas, including theoretical modeling.
Brouillette also toured the Materials Preparation Center, a unique operation that provides the world's highest-purity rare earth samples to other DOE national laboratories, university researchers, and commercial partners. The MPC also produces specialized alloys and material characterization not available elsewhere.
He also viewed the Laboratory's gas atomization research capabilities which are developing processes for producing fine metal powders, used in multiple industries for 3D printing and advanced manufacturing. The technology reduces production costs and improves product quality, and has earned the Laboratory 16 patents in the last two decades.
 "We are enormously pleased to host Secretary Brouillette today," said Ames Laboratory Director Adam Schwartz. "Our chemistry, physics, and materials science are key aspects of the Department of Energy's mission to promote technological innovation as a foundation of American economic prosperity."
Ames Laboratory is a U.S. Department of Energy Office of Science national laboratory operated by Iowa State University. Ames Laboratory creates innovative materials, technologies and energy solutions. We use our expertise, unique capabilities and interdisciplinary collaborations to solve global problems.
DOE's Office of Science is the single largest supporter of basic research in the physical sciences in the United States, and is working to address some of the most pressing challenges of our time. For more information, please visit science.energy.gov.
Contacts: 
Adam Schwartz, Director, Ames Laboratory, 515-294-2770
Laura Millsaps, Communications Manager, 515-294-1048