It was, in a manner of speaking, the ultimate light bulb moment when General Electric's Lighting business and the Critical Materials Institute first joined forces in 2013 to solve a manufacturing challenge. The partnership resulted in new materials, new patents, and new processes to make GE's lighting more efficient and less reliant on difficult-to-find raw materials.
Rare earths were at the crux of the problem for GE Lighting. Oxides of rare earths— europium, yttrium, lanthanum, and terbium— make up the red and green phosphors that illuminate fluorescent lighting tubes. With China controlling 90 percent of the world's supply of rare earths and periodic market pricing fluctuations affecting productivity, GE was searching for possible alternatives, all the while keeping an eye on swiftly advancing LED lighting technology, which also uses rare earths.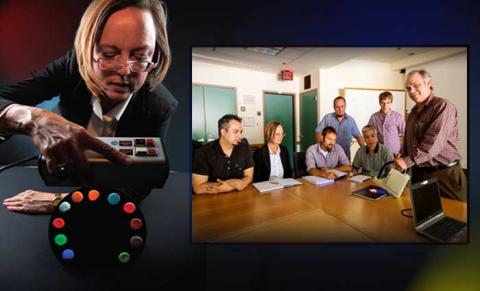 Enter the Critical Materials Institute. Supported by the U.S. Department of Energy and led by Ames Laboratory, CMI is comprised of national labs, universities, and industry partners (including GE). Established in 2013 to be a highly agile public-private innovation program in the world of rare-earth and critical materials, one of its core missions is to develop economical and reliable substitutes for the ingredients that U.S.manufacturers consider crucial, but potentially problematic from a supply perspective.
There is an emphasis on the agile part of the problem-solving-- deployment of a new material or process in conventional R&D is often 15 to 20 years or more, and that is a timeline for which a manufacturer's bottom line will not wait.
In the world of technology transfer, it's a failure so common that it is called the "valley of death." They are the many discoveries that seem so promising from the research lab bench that cannot or will not, for a myriad of technical and market reasons, see the light of day on a manufacturing floor.
"While we have multiple goals and multiple research projects in our partnerships, at the core of the Critical Materials Institute's approach is to bridge that valley by working with industry at the very earliest stages of R&D," said CMI Director Chris Haase. "We embrace the scientific, technical, and commercial challenges that our industry partners bring to us – often, they are all interrelated. We want them there at the very beginning, framing the R&D challenge, so that CMI's scientists can apply world class scientific capabilities and know-how to deliver timely and relevant answers."
GE's lighting business unit encompassed the entire supply chain, from materials to components to product, so it presented an ideal opportunity to find an innovative solution to the challenge, said Alok Srivastava, Principal Scientist at GE Global Research Center in Niskayuna, NY.
"We approached the partnership with CMI with the idea that we had a well-defined problem and knew every aspect of the manufacturing side, but not the expertise in materials design and development that the national laboratories could bring to the table," he said.
CMI brought in experts in optics and light-emitting materials from Lawrence Livermore National Laboratory, and paired them with the materials synthesis capabilities of Ames Laboratory and Oak Ridge National Laboratory to search for alternatives, but the path was defined by GE.
"This was not the type of research project where you start with a blank sheet of paper," said Steve Payne, a scientist on the project from Lawrence Livermore National Laboratory. "While we had new ideas that were exciting to GE, we had to direct our search in a way that GE defined as essential to their manufacturing processes and performance standards."
"We let the company decide the definition of 'better,' whether it's a material or a process-- it's often both. We want to present options that a manufacturer can turn to that meets their needs," said Tom Lograsso, CMI Focus Area Lead for developing substitutes.
For GE, the close collaboration resulted in the creation of a red phosphor that eliminates the use of europium and ytterbium, and a green phosphor that eliminates the use of lanthanum and greatly reduces (by 90%) the amount of terbium required. With fluorescent lighting expected to remain dominant in the U.S. for at least another decade, this greatly reduces the company's reliance on potentially difficult-to-source materials.
The effort also yielded a rare-earth free red phosphor consolidated into a transparent ceramic, which are more efficient and longer-lived than traditional powder-based phosphors.*
"We appreciated the laser focus on what worked for our manufacturing parameters," said Srivastava. "Together we were able to translate CMI's knowledge in the materials science aspects into real-life products, which is our ultimate goal as a manufacturer."
*Following delivery, GE Lighting, formerly known as Current by GE, was sold to American Industrial Partners.
____________________
For more information, please read about the CMI's industry partnership opportunities, or contact CMIaffiliates@amelab.gov
The Critical Materials Institute is a Department of Energy Innovation Hub led by the U.S. Department of Energy's Ames Laboratory and supported by the Office of Energy Efficiency and Renewable Energy's Advanced Manufacturing Office, which supports early-stage research to advance innovation in U.S. manufacturing and promote American economic growth and energy security. CMI seeks ways to eliminate and reduce reliance on rare-earth metals and other materials critical to the success of clean energy technologies.
Ames Laboratory is a U.S. Department of Energy Office of Science National Laboratory operated by Iowa State University. Ames Laboratory creates innovative materials, technologies and energy solutions. We use our expertise, unique capabilities and interdisciplinary collaborations to solve global problems.
Ames Laboratory is supported by the Office of Science of the U.S. Department of Energy. The Office of Science is the single largest supporter of basic research in the physical sciences in the United States, and is working to address some of the most pressing challenges of our time. For more information, please visit https://energy.gov/science.
Contacts:
Chris Haase, Critical Materials Institute Director, 515-296-4500
Laura Millsaps, Ames Laboratory Communications, 515-294-3474