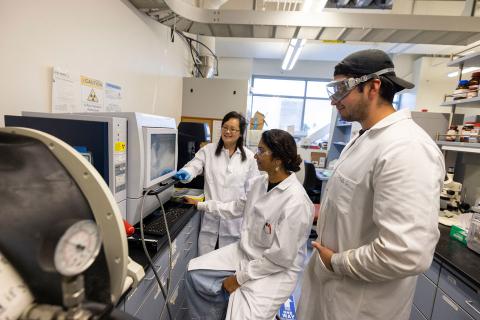 Cal State LA has received a $750,000 grant from the U.S. Department of Energy to provide more research and training opportunities in STEM fields for students while addressing important energy and climate challenges. 
The award is part of $37 million in grants from the DOE's Funding for Accelerated, Inclusive Research initiative that aims to build research capacity, infrastructure and expertise at institutions historically underrepresented in the DOE's Office of Science portfolio. 
Cal State LA is a Hispanic-Serving Institution, Minority-Serving Institution, and Asian American and Native American Pacific Islander-Serving Institution. 
The three-year grant project is a collaboration between Cal State LA and Ames National Laboratory called "Designing Photoresponsive Nanosponges for Efficient and Reversible Capture and Release of Carbon Dioxide." Ames National Laboratory is a U.S. Department of Energy Office of Science National Laboratory operated by Iowa State University.
The goal of the research project is to develop smart porous materials that act like sponges for carbon dioxide. The proposed design allows reversible capture and release of carbon dioxide using sunlight. The material acts like a sponge that pulls carbon dioxide from the air. Scientists then use sunlight to release the carbon dioxide from the sponge so it can be used again.
"The removal of carbon dioxide from the air can combat climate change and its associated consequences like extreme weather and forest fires," said Yangyang Liu, an associate professor of chemistry in the College of Natural and Social Sciences at Cal State LA and lead principal investigator on the grant.
Through the project, Cal State LA undergraduate and graduate students will have opportunities to participate in research at the university as well as internships at Ames National Laboratory. 
"We are very pleased to team up with Cal State LA on this project," said Long Qi, a scientist at Ames National Laboratory and co-principal investigator on the grant. "We will leverage our advanced capabilities to characterize porous materials at Ames Lab to investigate the capture mechanisms and offer hands-on experiences to Cal State LA students."
The DOE-funded projects were selected by competitive scientific peer review and aim to help the U.S. work toward achieving a net-zero carbon economy by 2050.
"I am honored to receive the generous funding from the Department of Energy, enabling our institution to contribute to a carbon net-zero future and train the next-generation workforce in clean energy," Liu said.
This story was originally published by Cal State LA: https://news.calstatela.edu/2023/08/11/cal-state-la-receives-grant-to-boost-opportunities-for-students-to-engage-in-clean-energy-research/