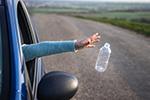 Imagine 10 million people, each drinking a bottle of water a day and then deciding on what to do with the container. Do they throw it in the trash, toss it to the gutter or recycle it? We live in a disposable society where many products that have some recyclable component never make it to the recycling bin, overwhelming waste streams, contaminating the environment and squandering critical resources.
The U.S. Department of Energy's (DOE) Argonne National Laboratory is among the advocates of a growing trend called the "circular economy" that shifts us from this linear practice of "produce, use and toss" to an integrated circular strategy of "recover, recycle and reuse," where products are designed from the beginning to avoid waste and be less harmful.
According to the Critical Materials Institute (CMI), a DOE Energy Innovation Hub led by Ames Laboratory, some of the materials utilized in energy storage efforts are considered energy-critical elements, the majority of which are extracted from other countries. These include cobalt, which is paramount to Argonne's work with lithium-ion batteries.
See the full story: Argonne innovations and technology to help drive circular economy