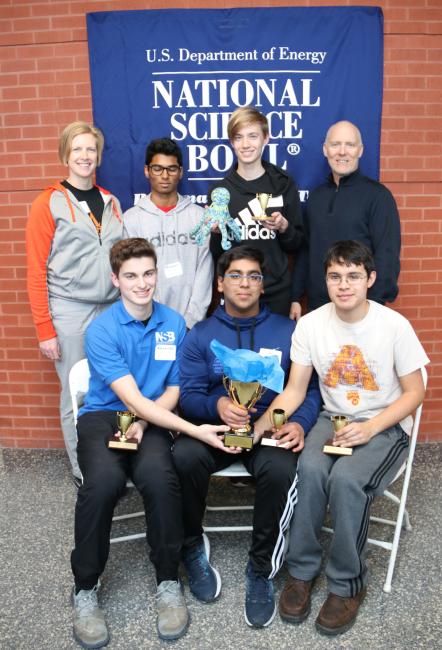 AMES, IA -- Ames High School defeated Pleasant Valley High School of Bettendorf 46-40 in the championship match to win the 2020 Ames Laboratory/Iowa State University Regional Science Bowl here on Jan. 25. It was the closest match of the day for the Ames team which cruised through earlier round matches by racking up triple-digit scores.
The Ames team of Andres Cordoba, Alexander Kovar, Ne Dassanayake, Jacob Stevens and Rishabh Swamy will represent the Iowa Region at the U.S. Department of Energy National Science Bowl (NSB)® April 30-May 4, 2020 in Washington, DC.
Pleasant Valley, last year's defending champion was second and Valley High School of West Des Moines was third. The same three teams were at the top last year with Pleasant Valley first, Valley second and Ames third.
A total of 33 schools participated in the day-long event. Final results bracket from Championship Round 
Ames Laboratory is a U.S. Department of Energy Office of Science research laboratory operated by Iowa State University. Ames Laboratory creates innovative materials, technologies and energy solutions. We use our expertise, unique capabilities and interdisciplinary collaborations to solve global challenges.
DOE's Office of Science manages the NSB and sponsors the NSB finals competition. More information about these events is available on the National Science Bowl (NSB)® web site.
DOE's Office of Science is the single largest supporter of basic research in the physical sciences in the United States, and is working to address some of the most pressing challenges of our time.  For more information, please visit https://science.osti.gov/.