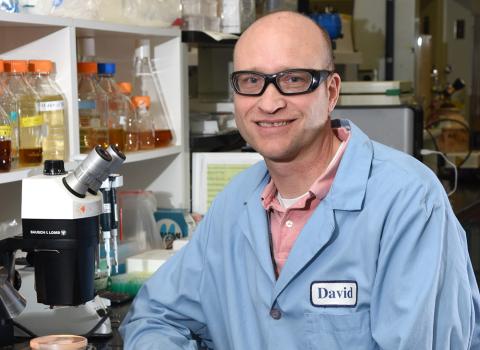 Every year, it takes millions of gallons of water to clean, peel and slice Idaho's potatoes before they're processed into any number of products from tater tots and animal feed to industrial starch. As a result, Idaho potato processors must treat and dispose of a large amount of wastewater that contains organic matter, silt and sand.
But now, new research from Idaho National Laboratory suggests that potato wastewater might serve well as a low-cost food source for a special bacterium that could be used to recycle high tech devices, industrial catalysts and other sources of rare earth elements. Rare earth elements are a class of metallic elements including neodymium and dysprosium found in everything from cellphones and computers to wind turbines and electric vehicles. These elements are difficult to obtain, leaving U.S. manufacturers vulnerable to supply shortages.
An INL research team has developed an environmentally friendly way to recycle rare earth elements using a bacterium called Gluconobacter oxydans. When provided with nutrients, Gluconobacter produces organic acids that dissolve the metallic elements from the surrounding material and pull them into solution—a process called "bioleaching."
Previously, INL researchers Vicki Thompson and David Reed conducted an economic analysis of their bioleaching process and found that the glucose used to feed the microbes was the biggest expense, accounting for 44% of the total cost. In their most recent study, Thompson, Reed and INL senior scientist Yoshiko Fujita compared the performance and cost of glucose to alternative nutrient sources, namely potato wastewater and corn stover—the leaves, stems and cobs left over after corn is harvested. Researchers from Lawrence Livermore National Laboratory and University of Arizona also participated in the study.
"The big challenge is, 'How do we reduce cost?'" said Reed, an INL research scientist. "One thing we're doing is using agriculture residues and food waste as a nutrient source for these microorganisms. The waste materials are also a problem for industry in some cases."
That's especially true for the potato industry. "Currently, that wastewater is something potato processors need to get rid of," Reed said. "They're limited in how many potatoes they can process by how much wastewater they can dump."
Link to see the complete story Potato wastewater could feed bacteria used to recycle high tech devices