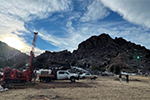 When the maiden drilling kicked off in March at American Rare Earths' Halleck Creek rare earth project site in Wyoming, it was a key next move for the Australian company, shortly after its subsidiary Western Rare Earths was named a member of the Critical Materials Institute, a U.S. Department of Energy Energy Innovation Hub at the beginning of the year.
Western Rare Earths will supply feedstock to U.S. Defense advanced research projects from both its Halleck Creek project and its La Paz project in Arizona, where it received all necessary permits and began drilling last year.
The Critical Materials Institute's mandate is innovation to assure supply chains for materials critical to clean energy technologies – with a focus on the rare earths supply chain for the United States. Currently, the United States has only one rare earths mine, Mountain Pass in California, owned by MP Materials, which is backed by a Chinese investor. The US currently has no capability to process rare earth minerals.
American Rare Earths is the latest company to join the race to establish a domestic supply chain in North America, and says its assets have the potential to become some of the largest rare earth deposits in the United States. American Rare Earths managing director Chris Gibbs told MINING.COM the game changer is the chemical composition of the feedstock they are supplying and that the company is in a good position with projects and with being part of CMI.
"With us being part of the Critical Materials Institute and our R&D partners looking at breakthrough technologies and working at the front end with our partners and collaborating – we're focused at both ends so we can close that loop."
See the full story: American Rare Earths partners on DOE-funded R&D, drills at Wyoming, Arizona projects