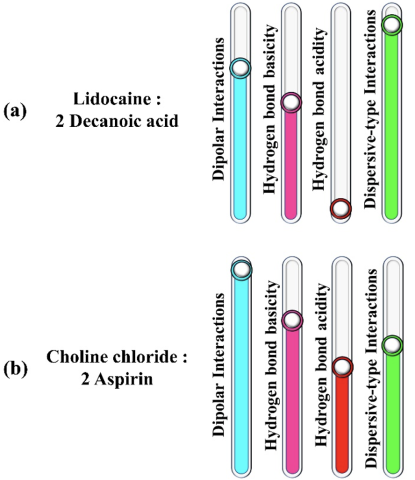 Scientific Achievement
Solvation properties of active pharmaceutical ingredient-based deep eutectic solvents (API-DESs) were systematically studied. API-DESs were classified into different groups using their individual solvation interactions. Grouping of API-DESs can be used to interpret and explain their behavior in various chemical separations and material science.
Significance and Impact
The solute-solvent interactions of API-DESs were chromatographically evaluated for the first time. Fundamental insights towards the solvation behavior of API-DESs can help in their rational design for energy intensive separation processes.
Research Details
DESs comprised of ionic hydrogen bond acceptors (HBAs) and API hydrogen bond donors (HBDs) offered higher dipolar interactions, hydrogen bond basicity, and acidity compared to DESs containing API-HBAs and non-ionic HBDs.
Individual solvation interactions of DESs with probe molecules resulted in a change in analyte elution order and their separation selectivity.
API-DESs can be classified into four clusters based on their dipolarity/polarizability and hydrogen bond basicity.
Farooq, M.Q.; Abbasi, N.M.; Smith, E.A.; Petrich, J.W.; Anderson, J.L.  "Characterizing the Solvation Characteristics of Deep Eutectic Solvents Composed of Active Pharmaceutical Ingredients as a Hydrogen Bond Donor and/or Acceptor" ACS Sustainable Chem. Eng. 2022, 10, 3066–3078