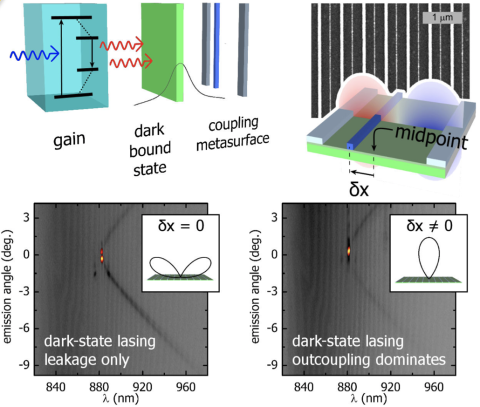 Scientific Achievement
Demonstrated lasing in dark resonant states of a surface laser and controllable coherent emission through the aid of a tightly coupled, weakly radiative metasurface.
Significance and Impact
Validated the dark-state surface laser concept separating implementation of quantum gain-coupled resonant photonic state responsible for macroscopic stimulated emission from coupling to a specific free-space radiative optical output — enabling novel surface laser designs.
Research Details
Identified the dark mode operation with distinct, observable signatures under linear scattering measurements (no pump) and luminescence/lasing (with pump), verifying agreement between experiment, simulation, and  predicted behavior.
The scalability of our design will enable ultra-thin coherent light sources with controllable emission from the infrared to the visible. Design is ideal for large scale on-chip integrated nanolasers capable of free-space beam-forming emission.
S. Droulias, S. Mohamed, H. Rekola, T.K. Hakala, C.M. Soukoulis, and Th. Koschny, "Experimental demonstration of dark-state metasurface laser with controllable radiative coupling," Adv. Opt. Materials,  2102679 (2022).