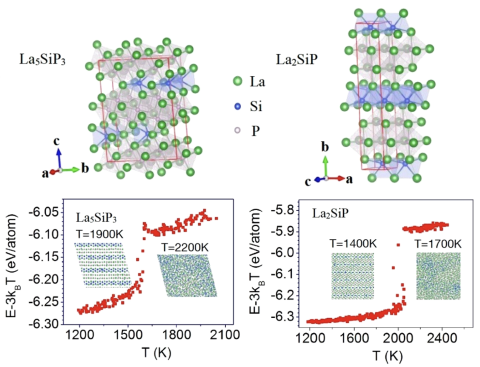 Scientific Achievement
Novel low-energy La-Si-P ternary compounds are efficiently predicted by an ML-guided framework which dramatically (~100 times) accelerates the pace of materials discovery.
Significance and Impact
The ML-guided framework can be applied to any systems that are not feasible by traditional algorithms or high throughput ab initio calculations.
Research Details
Effectively integrates ML tools and databases with ab initio calculations and experiment.

Adapt deep ML model for fast prediction of composition-structure-energy relationship in complex ternary systems.

The approach identifies a small set of promising compositions/structure by ML for further refining by ab initio calculations, thus accelerating (~100 times) the discovery.
H. J. Sun, C. Zhang, W. Xia, L. Tang, R. Wang, G. Akopov, N. W. Hewage, K.-M. Ho, K. Kovnir, C. Z. Wang, Inorganic Chemistry 61, 16699 (2022). https://doi.org/10.1021/acs.inorgchem.2c02431