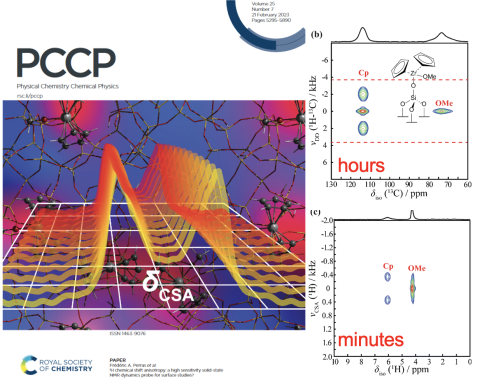 Scientific Achievement
A new, high-sensitivity, approach for studying molecular dynamics is reported, enabling the study of surface sites.
Significance and Impact
Molecular motions are thought to have an outsized impact on catalytic activity. A new method leverages 1H chemical shift anisotropy (CSA) to reveal the motions of sparsely populated surface sites and how intersite clustering can impact site accessibility.
Research Details
Theoretical investigation reveals that 1H CSA can be used as a sensitive substitute for dipolar-based dynamic methods.
The method is applied to study the motions of supported organic, Zn, and Zr species.
Comparisons with MD simulations suggest that the motions of catalytic sites may be impeded by intersite proximities.
Southern, S. A.; Liu, D.-J.; Chatterjee, P.; Li, Y.; Perras, F. A. Phys. Chem. Chem. Phys. 2023, 25, 5348-5360. DOI: https://doi.org/10.1039/D2CP04406D