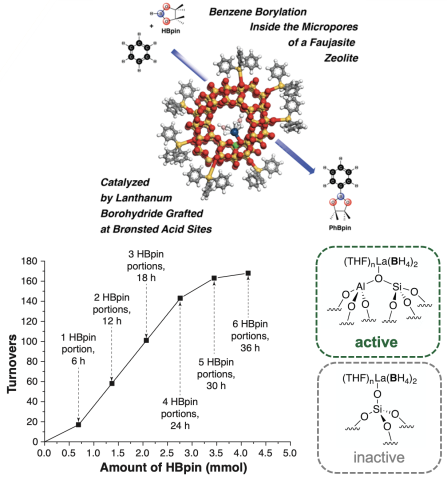 Scientific Achievement
The zeolite-supported lanthanum borohydride, La(BH4)x-HY30, catalyzes C–H borylation of benzene with pinacolborane (HBpin) at 120 °C to give PhBpin. By capping the external silanol on zeolite particles, the single-site La catalyst was selectively grafted at Brønsted acid sites in micropores, increasing turnovers compared to La grafted on the unprotected support.
Significance and Impact
The earth abundant lanthanum-based complex provides the first alternative to thermal, late-transition metal catalysts for borylation of CH bonds in simple aromatic hydrocarbons. Identification of La grafted at Brønsted sites as unique active species, combined with shape and size selectivity enabled by the zeolite support, offers new opportunities for selective conversions of hydrocarbons.
Research Details
11B solid-state NMR spectroscopy combined with size-selective poisoning identified a new species formed by grafting onto Brønsted acid sites inside of zeolite micropores.
Synthetic manipulation of the zeolite support maximized La grafting on Brønsted acid sites and improved activity and selectivity of catalytic benzene borylation.
Guided by kinetic analysis, HBpin yield was further increased by slow addition of HBpin.
Li, Y.; Kanbur, U.; Cui, J.; Wang, C.; Kobayshi, T.; Sadow, A. D.;* Qi, L.* "Supported Lanthanum Borohydride Catalyzes CH Borylation Inside Zeolite Micropores." Angew. Chem. Int. Ed. 2022.
Supported by the Office of Basic Energy Sciences' Catalysis Science program though grant DE‐AC02‐07CH11358