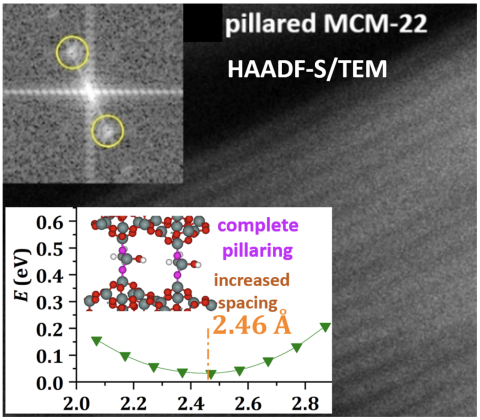 Scientific Achievement
A first-principles analysis of pillaring in layered zeolitic MCM-22 type materials was carried alongside experimental characterization of pillared MCM-22 variants.
Significance and Impact
This research offers new physico-chemical knowledge about tuning interlayer spacing and the detailed energetics governing pillaring and grafting in all-silica MCM-22 type materials. It also provides insights into structural aspects of the engineering of interlayer spacing in natural ionic adsorption clays. 
Research Details
Analysis shows that the interlayer spacing of layered zeolitic MCM-22 type material with low Al content (Si:Al = 51:1) pillared succinic anhydride, can be increased from 2.5 Å to 2.7 Å.
The computational result is confirmed experimentally.
Han, Yong; Chattergee, Puranjan; Alam, Sardar; Prozorov, Tanya; Slowing, Igor; Evans, James, "Interlayer spacing in pillared and grafted MCM-22 type silicas: Density functional theory analysis versus experiment", Physical Chemistry Chemical Physicsm, 2022. https://doi.org/10.1039/D2CP03391G