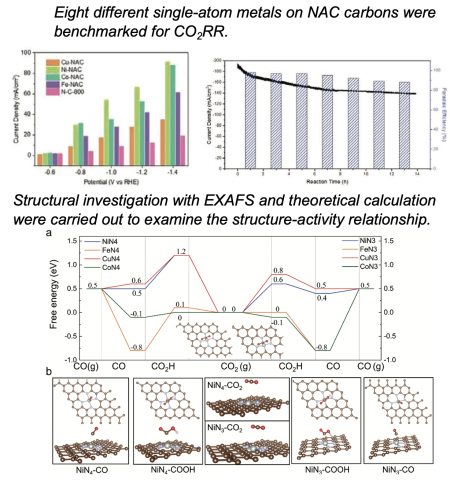 Scientific Achievement
Single-atom metals supported on ordered mesoporous carbons are promising catalysts for selective electrocatalytic reduction of CO2 to CO. A generalized coordination–condensation strategy is reported to prepare single-atom metal sites on ordered mesoporous carbon with high surface areas (average 800 m2 g-1). This method is applicable to a broad range of metal sites (Fe, Co, Ni, Cu, Pt, Pd, Ru, and Rh) with loadings up to 4 wt.%. 
Significance and Impact
General synthetic methods for single-atom metal catalysts with high surface area and tunable single-site metal composition are highly demanded to unambiguously investigate the structure–activity relationship crossing various metal sites.
Research Details
Single-atom metal catalysts were synthesized with ethylene diamine and carbon tetrachloride as the precursors for maximal metal incorporation.
Catalysts were tested with both H-cell and flow cell showing Ni catalyst is of 95% faradaic efficiency under large current density (>140 mA cm-2).
Theoretical calculations suggest that the enhanced activity on Ni catalysts results from balanced binding energies of key intermediates as mediated by the coordination sphere. 
Luo, Z., Yin, Z., Yu, J., Yan, Y., Hu, B., Nie, R., Kolln, A. F., Wu, X., Behera, R. K., Chen, M., Zhou, L., Liu, F., Wang, B., Huang, W.*, Zhang, S.*, Qi, L.*, "General Synthetic Strategy to Ordered Mesoporous Carbon Catalysts with Single-Atom Metal Sites for Electrochemical CO2 Reduction." Small, 2022, 18, 2107799.
This research is supported by the DOE, Office of Science, Basic Energy Sciences, Division of Chemical Sciences, Geosciences, and Biosciences through the Ames Laboratory.