Ames Middle School needed a second match, but defeated Indian Hills Middle School of Clive 80-20 to capture the 2020 Ames Laboratory Regional Middle School Science Bowl on Feb. 22. Ames topped a field of 32 teams in the day-long, quiz-bowl format competition and will represent the Iowa Region at the  U.S. Department of Energy National Science Bowl (NSB)®  April 30-May 4, 2020 in Washington, DC.
Indian Hills lost to Ames 98-26 in the quarter final match, but then defeated Stilwell of West Des Moines 72-48 in the semifinal round to earn a rematch with Ames. In the first championship match, Indian Hills outlasted Ames 68-52, setting up a third and final match in the double-elimination tournament. The championship results can be found HERE.
Below are the top three teams from the event.
First Place - Ames
Front (l-r) Aneesh Shrotriya, Siray Zhu, Jacques Attinger; back (l-r) coach Jordan DiLorenzo, Abhi Amuluru, Aidan Krueger, Ames Lab Director Adam Schwartz.
Second Place - Indian Hills
Front (l-r) Dan Chen, Ben Hornback, Roy Newton; back (l-r) coach Nick Bogue, Frank McEvoy, Anna Deschamps, coach Alice Fuglsang and Ames Lab director Adam Schwartz.
Third Place - Stilwell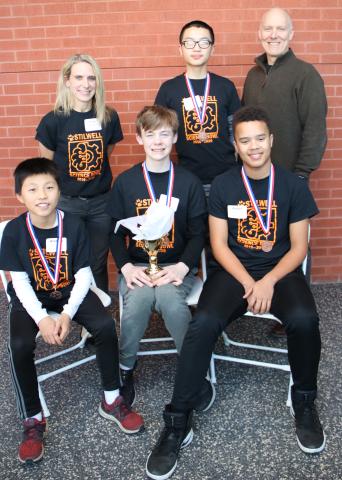 Front (l-r) Andrew Zhang, Leif Horak-Hult, Ayden Murenzi; back (l-r) coach Shelly Urban, Alvin Dong and Ames Lab Director Adam Schwartz.